Julian
Zoller
, M.Sc.
Institut für Mechanische Verfahrenstechnik und Mechanik
Karlsruher Institut für Technologie (KIT)
Geb. 30.70
Straße am Forum 8
D-76131 Karlsruhe
Research Topic
Investigation of development, rearrangement, and detachment of reactive-inert particle structures on cylindrical collectors in gaseous environment
Depth filters are used in air-conditioning, cleanroom technology and exhaust gas treatment. Particles are separated inside a porous structure. Detachment of separated particles and stepwise transportation does not happen in most applications. Nevertheless reactive components in deposited particle structures can cause rearrangement and detachment. These processes are relevant in soot particle filtration and therefore fundamental research about this phenomena should be made in this project.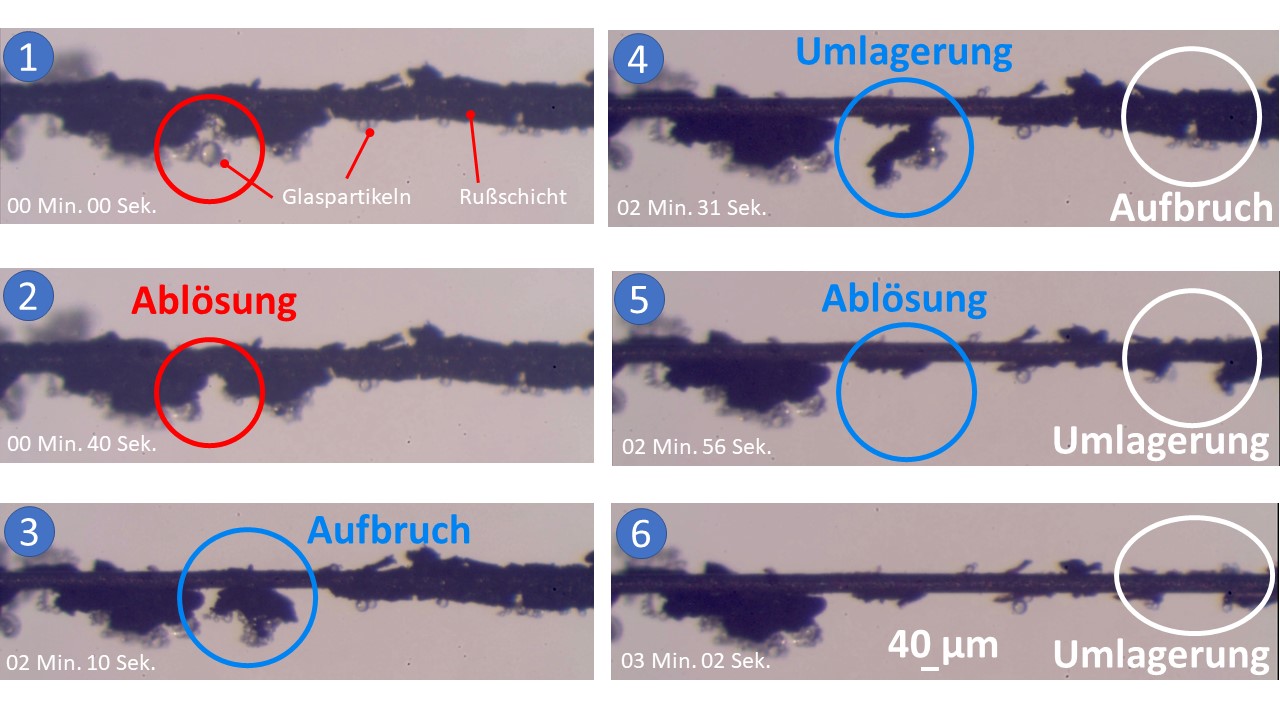 Figure: Pictures of rearrangement and detachment of particles on a single fiber.
Fiber is inside an air stream with 440°C and 0,4m/s.
Publications

| Title | Authors | Source |
| --- | --- | --- |
| Analytical and numerical calculation of the detachment of particle structures from fibres | K. Braschke, J. Zoller, A. Zargaran, A. Dittler, U. Janoske | Aerosol Science and Technology, Accepted author version, 2021, https://doi.org/10.1080/02786826.2021.1972085 |
| A critical note on filtering-face-piece filtration efficiency determination applying EN 149 | J. Zoller, J. Meyer, A. Dittler | Journal of Aerosol Science, 2021, 158, 105830, https://doi.org/10.1016/j.jaerosci.2021.105830 |
| Morphology of particulate deposits formed on a single filter fibre by exposure to mixed aerosol flow | J. Zoller, A. Zargaran, K. Braschke, J. Meyer, U. Janoske, A. Dittler | Journal of Aerosol Science, 2020, https://doi.org/10.1016/j.jaerosci.2020.105718 |
| Experimental investigation of reactive-inert particulate matter detachment from metal fibres at low flow velocities and different gas temperatures | J. Zoller, A. Zargaran, K. Braschke, J. Meyer, U. Janoske, A. Dittler | Aerosol Science and Engineering, 2020, https://doi.org/10.1007/s41810-020-00081-3 (open access) |
| Loss of nanoparticles in a particulate matter sampling system applied for environmental ultrafine particle measurements | J. Zoller, J. Gulden, J. Meyer, A. Dittler | Aerosol Science and Engineering, 2020, 4, 50-63, https://doi.org/10.1007/s41810-020-00054-6 (open access) |