Peter
Bächler
, M.Sc.
Institut für Mechanische Verfahrenstechnik und Mechanik
Karlsruher Institut für Technologie (KIT)
Geb. 30.70
Straße am Forum 8
D-76131 Karlsruhe
Research Topic
Innovative approaches regarding the optimization of the operating performance of pulse-cleaned baghouse filters for gas treatment
Pulse-cleaned surface filters are used in a variety of applications as a means to separate particles from loaded gas streams for gas purification or product recovery. Two important criteria regarding the performance of the filter systems are energy demand and particle emissions, both of which should be low during optimal operation. Considering the significance of digitalization and Industry 4.0, improved control of the baghouse filter systems is key for an increase in efficiency.
Main requirements for process monitoring are suitable sensors for the measurement of relevant process parameters. Regarding the measurement of particle concentration, cheap and compact low-cost PM-sensors have been established in immission measurement. These sensors can also be applied in baghouse filters to evaluate the emission behavior of distinct filter bags.
The aim of this research project is the measurement of the local process parameters in a baghouse filter system via widely spread sensor arrays to gain insights regarding optimal operation conditions of baghouse filter system.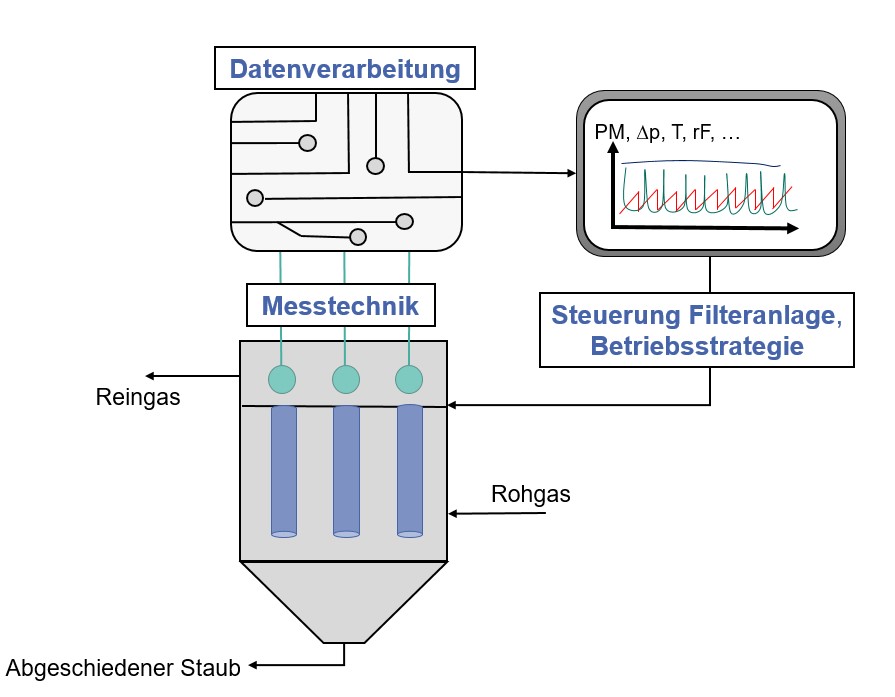 Publications

| Title | Authors | Source |
| --- | --- | --- |
| Operating behavior of pulse jet-cleaned filters regarding energy demand and particle emissions - Part 1: Experimental parameter study | P. Bächler, J. Meyer, A. Dittler | Chemical Engineering & Technology, 2023, 46, https://doi.org/10.1002/ceat.202300080 (open access) |
| Spatially resolved online leak detection in a baghouse filter applying low-cost PM-sensors | P. Bächler, J. Meyer, A. Dittler | Chemie Ingenieur Technik, 2023, 95, No. 1-2, https://doi.org/10.1002/cite.202200116 (open access) |
| Impact of seams on the operating behavior of surface filters regarding particle emissions | C.R. de Lacerda, P. Bächler, A.D. Schwarz, R. Sartim, M.L. Aguiar, A. Dittler | Chemical Engineering & Technology, 2022, 45, No. 7, 1354-1362, https://doi.org/10.1002/ceat.202200132 |
| Process integrated monitoring of spatially resolved particle emissions of a baghouse filter using a network of low-cost PM-sensors | P. Bächler, V. Löschner, J. Meyer, A. Dittler | Process Safety and Environmental Protection, 2022, 160, 411-423, https://doi.org/10.1016/j.psep.2022.02.005 |
| Measurement of transient nanoparticle emissions of pulse-jet cleaned filters applying an engine exhaust particle sizer | P. Bächler, J. Meyer, A. Dittler | Aerosol Science and Technology, 2022, Vol. 56, No. 4, 394-402, https://doi.org/10.1080/02786826.2022.2027335 |
| Impact of ambient air filters on PM concentration levels at an urban traffic hotspot (Stuttgart, Am Neckartor) | P. Bächler, T.K. Müller, T. Warth, T. Yildiz, A. Dittler | Atmospheric Pollution Research, 2021, 12, 101059, https://doi.org/10.1016/j.apr.2021.101059 (open access) |
| Simultaneous measurement of spatially resolved particle emissions in a pilot plant scale baghouse filter applying distributed low-cost particulate matter sensors | P. Bächler, J. Szabadi, J. Meyer, A. Dittler | Journal of Aerosol Science, 2020, 150, 105644, https://doi.org/10.1016/j.jaerosci.2020.105644 (open access) |
| Characterization of the emission behavior of pulse-jet cleaned filters using a low-cost particulate matter sensor | P. Bächler, J. Meyer, A. Dittler | Gefahrstoffe Reinhaltung der Luft 79, 2019, 79, Nr. 11-12, 443-450 |
Conference Contributions

| Title | Conference | Authors |
| --- | --- | --- |
| Optimierung des Betriebs von druckstoß-gereinigten Oberflächenfiltern unter Einbezug von Energieverbrauch und Partikelemission | Jahrestreffen der DECHEMA-Fachgruppen Aerosoltechnik (AT), Gasreinigung (GAS), Mehrphasenströmung (MPH) und Partikelmesstechnik (PMT) | P. Bächler, J. Meyer, A. Dittler |
| On the trade-off between energy efficiency and particle emissions for pulse-jet cleaned filters | FILTECH 2023, The Filtration Event | P. Bächler, J. Meyer, A. Dittler |
| Emissionsbasierte Optimierung des Betriebs von Oberflächenfiltern auf Basis der lokalen Erfassung von Partikelemissionen | Jahrestreffen der ProcessNet-Fachgruppen Abfallbehandlung und Wertstoffrückgewinnung, Energieverfahrenstechnik, Gasreinigung, Hochtemperaturtechnik, Rohstoffe | P. Bächler, J. Meyer, A. Dittler |
| Identification of particle emission hotspots in baghouse filters via spatially resolved PM measurement | FILTECH 2022, The Filtration Event | P. Bächler, J. Meyer, A. Dittler |
| On the spatio-temporal particle emission behavior of pulse-jet cleaned surface filters via measurement of the emission contribution of individual filter bags with low-cost particulate matter sensors | AFS FILTCON 2021 | P. Bächler, V. Löschner, J. Meyer, A. Dittler |
| Origin of spatio-temporal particle emissions of surface filters due to clogging and release of particles from previously clogged seams of individual filter bags due to jet-pulse cleaning | AFS FILTCON 2021 | V. Löschner, P. Bächler, J. Meyer, A. Dittler |
| Optimierung von Oberflächenfiltern auf Basis der online Messung lokaler Partikelemissionen und Berücksichtigung des Energieverbrauchs | Jahrestreffen der ProcessNet-Fachgruppen Gasreinigung und Partikelmesstechnik 2021 | P. Bächler, V. Löschner, J. Meyer, A. Dittler |
| Digitalisierung in der Filtertechnik: Simultane Messung der lokalen Partikelemission von Schlauchfilteranlagen mittels kostengünstigen Feinstaubsensoren | Online Industrieworkshop: "Digitalisierung in der Trenntechnik" | P. Bächler, J. Meyer, A. Dittler |
| Einsatz von low-cost PM-Sensoren zur Messung der lokalen Partikelemission einzelner Filterschläuche in einer Filteranlage im Technikumsmaßstab | Jahrestreffen der ProcessNet-Fachgruppen Computational Fluid Dynamics und Gasreinigung | P. Bächler, J. Szabadi, J. Meyer, A. Dittler |
| Investigation of low-cost PM-sensors regarding the suitability for emission measurement for pulse-jet cleaned filters | FILTECH 2019 - The Filtration Event | P. Bächler, J. Meyer, A. Dittler |
| Innovative Ansätze zur Verwendung von Low-Cost PM-Messtechnik: Neuartige Möglichkeiten der Emissionsbestimmung von Oberflächenfiltern bei der Gasreinigung | Jahrestreffen der ProcessNet-Fachgruppen Mechanische Flüssigkeitsabtrennung und Gasreinigung | P. Bächler, A. D. Schwarz, J. Meyer, A. Dittler |